---
---
Important Links and Videos
Must Watch: 15 Year Old Trying to Save Our Hobby
My Comments submitted to the FAA
Thank you for Commenting. What's Next? AMA Message
---
U.S. Department of Transportation Announces Technology Partners for Remote ID Development
For Immediate Release
May 5, 2020
Contact: pressoffice@faa.gov
WASHINGTON – The U.S. Department of Transportation's Federal Aviation Administration (FAA) today announced the eight companies that will assist the Federal government in establishing requirements for future suppliers of Remote Identification (Remote ID). Remote ID will enable Unmanned Aircraft Systems (UAS), commonly called drones, to provide identification and location information while operating in the nation's airspace.
The FAA selected the following companies to develop technology requirements for future Remote ID UAS Service Suppliers (USS): Airbus, AirMap, Amazon, Intel, One Sky, Skyward, T-Mobile, and Wing. These companies were selected through a Request for Information process in December 2018.
"The FAA will be able to advance the safe integration of drones into our nation's airspace from these technology companies' knowledge and expertise on remote identification," said U.S. Transportation Secretary Elaine L. Chao.
This initial group will support the FAA in developing technology requirements for other companies to develop applications needed for Remote ID. The applications will provide drone identification and location information to safety and security authorities while in flight.
The technology is being developed simultaneously with the proposed Remote ID rule. Application requirements will be announced when the final rule is published. The FAA will then begin accepting applications for entities to become Remote ID suppliers. The FAA will provide updates when other entities can apply to become qualified Remote ID USS on FAA.gov.
Drones are a fast-growing segment of the transportation sector with nearly 1.5 million drones and 160,000 remote pilots now registered with the FAA. The agency's ability to develop Remote ID technology simultaneously with the rule enables the FAA to continue to build on a UAS Traffic Management (UTM) system that has demonstrated global leadership through the small UAS rule and the implementation of the Low Altitude Authorization and Notification Capability (LAANC), which automates the application and approval process for most UAS operators to obtain airspace authorizations.
---
FAA: Remote ID Cohort Information
Thanks for the questions we received after yesterday's press release on the Remote ID Cohort. To clarify, the Cohort is not part of the decision-making process for the proposed Remote ID rule final rule. The Cohort will help the FAA develop technology requirements for other companies to develop applications needed for Remote ID. The comment period on the Remote ID Notice of Proposed Rulemaking closed on March 2, 2020, and the FAA is reviewing the more than 53,000 comments. 
If you are a member of the media, contact us at pressoffice@faa.gov and a public affairs specialist will respond.
If you are a drone operator with questions about Remote ID, or any other drone-related question, please email UAShelp@faa.gov or call 844-FLY-MY-UA.
---
New Jersey and New York AMA members
an urgent request from your V.P., Eric Williams
Table
This is the most challenging time in the history of model aviation and your help is needed now to defend our hobby! With its recent Notice of Proposed Rulemaking (NPRM), the Federal Aviation Administration (FAA) is proposing "Remote Identification of Unmanned Aircraft Systems" that will put draconian limits on your hobby.
Among the FAA's proposals is a requirement for you to register all of your aircraft at a cost of $5 each. Assuming a $5 registration cost per aircraft is not increased over time, AMA's 180,000 members would be forced to register approximately 1.62 million aircraft at a cost of $8.1 million.
Although the proposed rules include an exclusion for amateur-built model aircraft, the NPRM's definition of what constitutes "amateur-built" is unacceptable. If the FAA applies the same amateur-built policy that is used for manned aircraft, there will be significant limitations for modelers. Although ARF model aircraft require skill, knowledge, and technical ability to properly construct, the NPRM rule does not consider ARF model aircraft as amateur-built. The amateur-built "exclusion" would be extremely narrow and not apply to the vast majority of what modelers fly today.
The NPRM includes FAA-Recognized Identification Areas (FRIAs), such as the club sites you fly at today, that would be limited to sites that apply for FAA FRIA recognition during the first year of the proposed rule. After the first 12 months, no additional FRIA sites could be added. As you know, clubs regularly need to find new sites because of construction encroachment, zoning, and other reasons. The FRIA proposal will systematically close all but a handful of club flying sites, and eventually, it will close virtually all club flying sites.
One proposal in the NPRM, Standard Remote Identification would require you to purchase and install systems onboard your aircraft that will broadcast identification and location information directly from your model aircraft to the FAA through an internet connection. Another NPRM proposal, Limited Remote Identification, would require you to transmit flight information through the internet via your cellphone. However, your model aircraft could not operate more than 400 feet from your transmitter – either vertically, laterally, or horizontally. This rule would ground all but the smallest model aircraft!
These are just some of the unreasonable requirements proposed in the FAA's NPRM. The permanent damage will be not to just our hobby and how you fly, but also the contributions model aviation makes to education and aviation, as well as cultivating America's future aviation professionals. If allowed to be enacted, the proposals will halt model aviation as we know it.
While this is bleak, we have an opportunity to change this proposed rule before it becomes a final rule and is implemented, but we need your help!
The NPRM process allows citizens to respond to the FAA with their individual concerns about the proposed rules. To help AMA members respond to the FAA's NPRM, AMA has created several response templates. These templates can be used as is or modified, or you may choose to write your own response. Although it is best to write your own comments or to modify and edit the templates to your choosing, even using a template as it is, is important. If you find new information you'd like to express, or present a new or different idea, you can submit multiple NPRM comments multiple times. Members, friends, and family can certainly submit comments too. Every comment counts!
Electronic comments can be submitted via the Federal Register website at: www.regulations.gov/comment?D=FAA-2019-1100-0001.
There is strength in numbers only if you respond and comment to the NPRM. All comments must be received by March 2, 2020. Time is of the essence!
I thank you in advance for helping to defend our hobby. If you need assistance, please contact me, any AMA Leader Member, or an AMA Associate Vice President. AMA members have always rallied to support each other and our hobby. We certainly need to do so now.

Thank you for being an involved AMA member!

Eric Williams
Vice President District II
New Jersey, New York, Europe
---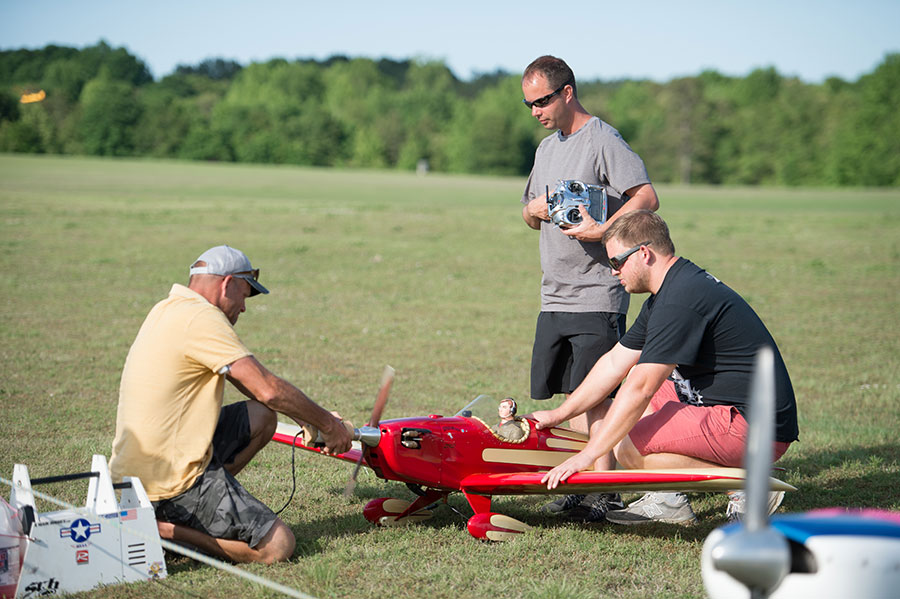 Summary of EAA response to FAA Remote Identification*
January 16, 2020 – EAA is very concerned that the FAA's proposed rule on Remote Identification (RID) of Unmanned Aircraft Systems (UAS) could have a severe detrimental impact on traditional model aviation, and is preparing a full package of comments on the Notice of Proposed Rulemaking (NPRM).
The rule would require most UAS, no matter whether they are "drones" or traditional model aircraft, to carry equipment that identifies the device and broadcasts its location. Additionally, many would be required to be equipped with "geofencing" systems that autonomously contain the craft within a defined altitude and lateral boundary.
While EAA is primarily an organization that fosters and supports passion for manned flight, we recognize the modeling community as an important pathway into aviation. In fact, last year we launched the Young Eagles Build and Fly Program, a chapter activity to guide youth in building their own electric RC model, which they can then fly with a local Academy of Model Aeronautics (AMA) club. …we are concerned that regulatory overreach in the modeling world could easily set a precedent for future action against general aviation, such as an equipment mandate for the benefit of commercial UAS integration into the airspace.
EAA's first action on this rule was to request a comment period extension from 60 to 120 days to allow time for the public to adequately evaluate this complex and sweeping proposal. Since then we have been carefully reading through the NPRM and working with industry partners in the modeling community. So far, these are our top concerns:
This rule is based on an imagined security and safety threat that simply is not proven in relation to traditional modeling. …

The rule would require every modeler to uniquely register every aircraft they own. Models come and go from modelers' collections on a regular basis, which would necessitate frequent changes to the registry. A prolific modeler could easily own more than 100 models – a truly unwieldy number to maintain valid registrations, especially if there is a per-aircraft fee involved.

The FAA has based some of this rule on an assumption that the average UAS has a lifespan of approximately three years. This is wholly inappropriate in relation to model aircraft, which may last for 20 or more years or may crash on the first flight.

The NPRM has a narrow exemption to the RID requirement, but only for aircraft that are more than 50 percent amateur-built and flying at a recognized model field. The "51 percent rule" works well for full-size amateur-built aircraft, but cannot simply be adapted to modeling without a large amount of unnecessary bureaucracy. Adopting the rule as written could easily cause major consequences for builders of almost-ready-to-fly kits, which account for a majority of new model aircraft. These kits still involve extensive assembly and customization, but would likely fall short of the proposed 50 percent standard.

Under the NPRM, model fields (termed "FAA recognized identification area," or "FRIA") would be approved in a one-time, 12-month window. This is clearly meant to "grandfather" existing facilities, with no mechanism for approving new ones. From time to time, modeling clubs can and do relocate their operations for a variety of reasons, and new clubs are established. Additionally, EAA believes that anyone operating under the guidelines of a community-based organization should be able to establish a FRIA, such as individuals in rural areas who wish to fly from their own property.

Under "limited remote ID," in circumstances where a model is not flown at an approved FRIA or is not compliant with the amateur-built carve-out and lacks onboard reporting equipment, a geofencing system is required. These are difficult to engineer and would severely hamper operations away from FRIAs or the use of prebuilt commercial models.

The rule mandates technology that is not available in large numbers and is not yet fully mature. In the case of the ADS-B mandate, for example, extensive testing took place prior to the 2008 NPRM that mandated its use (and the mandate was not in effect until a decade after the publication of the rule).

There is ambiguity about whether this rule applies to control line and free-flight modeling, and it could even cause complications for indoor modeling.
EAA will provide guidance to members who wish to comment in the coming weeks. When you do comment, please be respectful and use rational, fact-driven arguments in your own words. Form letters and emotional comments have much less impact on the regulatory process. More updates will be provided as they become available.
* (Excerpts posted with permission of EAA)
---
Important Message from AMA.
Click Here for 3 Minute Video on where to get your FAA Number and how to visibly show on aircraft AMA Short Video
---

FAA Recognized Identification Area (FRIA)
FAA Recognized Identification Area (FRIA) – This section is for the recreational fliers and will essentially be those fields that are recognized flying areas covered by a community based organization (CBO) like the Academy of Model Aeronautics (AMA). Interestingly enough they indicate that 90% of established fields will be approved for this designation, with 10% being denied due to being in a sensitive operating area. This process is also not automatic. The area wishing this designation must submit an application within 60 days of passage into law of this proposal. If approved, aircraft operating in that area are exempt from the hardware and transmitting requirement and may fly as long as they remain within 400' from the control station.
A Conversation on the New Remote ID Proposal
Inability to Fly Beyond 400 Feet Lateral Distance Will Greatly Limit Drone Operations
In my view, the biggest change to our operations is the further definition of "Line of Sight." This proposal puts a hard number of 400' lateral distance from the control station as the limit to line of sight. I am sure there are more than a few operators that will take umbrage to this definition because it is easy to maintain an effective visual and provide deconfliction at 2, 3, or even 4 times that distance.
Unstable Internet Connection? You Might Be DENIED Permission to Takeoff
This statement appears on page 22 – Standard Remote Identification – 89.110. If the internet is unavailable at takeoff, or if during the flight, the unmanned aircraft can no longer transmit through an internet connection to a Remote ID USS, the UAS would have to broadcast the message elements directly from the unmanned aircraft from takeoff to landing.Paragraph
It is further clarified in the document that dependent upon whether the aircraft is even capable of sending the message determines whether it can even take off. Stated differently, if your aircraft reports a malfunction in the transmission of the message, it will NOT BE ALLOWED TO EVEN TAKE OFF. Most UAS will have to be retrofitted to include this monitoring/diagnostic system to report this condition. (As a side note, this element is significantly more onerous than manned GA requirements utilizing ADS-B. Even after the 2020 mandate, I can take off in my Cessna 172 without having to report my position as long as I stay out of controlled airspace.)
---