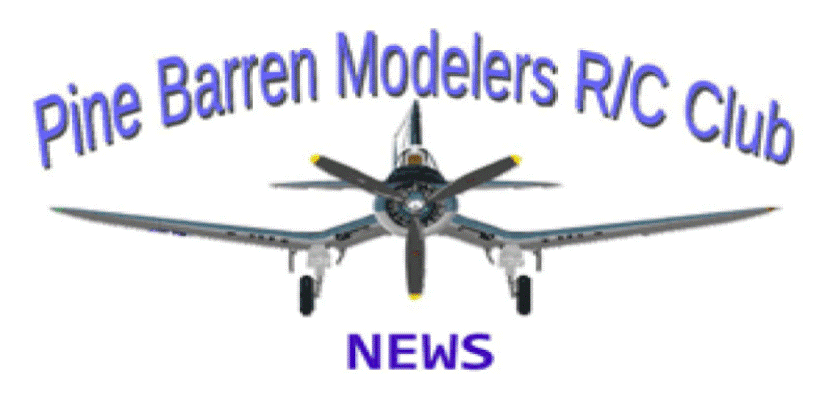 ---
---
---
---
PBM Welcomes our Neighbors OCM
The Ocean County Modelers Club has been temporary restricted to weekend flying only. The club has requested to be allowed to fly at our fields during the weekdays until the ban is lifted. The Pine Barrens Modelers Club Officers have approved with open arms to allow our fellow hobbyists access to our fields. The OCM has invited us to join them at their field during the weekend. Please join me in welcoming our neighbors. Fly Safe
A Message from the of OCM President, Dave Sopronyi:
I MUST MENTON, WITH GREAT APPRECIATION, THE WILLINGNESS OF THE OCEAN COUNTY PINE BARRENS FLYING AND MODEL CLUBS BOARD AND MEMBERS FOR EXTENDING TO OUR MEMBERS, FLYING AS GUESTS AT THEIR FACILITIES. OCM HAS ALWAYS SHARED WINTER GYM FLYING EXPENSES WITH PB AND HAVE MAINTAINED SUPPORT OF THIER CLUBS ACTIVITIES, I AND THE BOARD HAVE EXTENDED THE INVITATION FOR PB MEMBERS TO FLY WITH US AT OCM AND THEIR BOARD WILL RELAY UPDATES TO OUR SCHEDULE, IT WOULD BE NICE TO THANK THEM PERSONALLY FOR THEIR KIND GESTURE TO OCM WHEN INVITED OR VISITING ONE OF THIER FACILITIES OR POSSIBLY A EMAIL.
OCM Schedule:
The field will be closed 7/11 and 7/12
All other weekends in July are available for flying including:
Friday, Saturday and Sunday 7/3, 7/4 and 7/5
PBM members are welcome to come fly
---
Flying Fields: Be Safe
While Flying Just some basic safeguards we must follow while we all get through this virus. While flying at our fields we need to adhere to these simple rules.
– No more than 25 people allowed at any field simultaneously.
– Keep a distance of 6 feet apart at all times
– Masks must be worn at all times.
These simple rules are there to protect you and others. Please follow them as though your life depends on it…it does.
Be safe my friends.
---
Coyle Field News
Please review the following message from John Wimberg:
With the Governor opening up the State Parks this coming Saturday, Coyle Field will be open for your use again. The Social distance requirements and restrictions to large groups stay in place.
Safe flying!
John Wimberg
NJ Forest Fire Service
---
Message From Mayor Amato
Monday March 16, 2020, 4:35 PM
Township of Berkeley
Advisory: UPDATE Novel Corona Virus (COVID-1
Dear Resident:

As you know, President Trump and Governor Murphy have declared a Medical State of Emergency due to the Novel Corona Virus (COVID-19) Pandemic.

What we do collectively over the next 3 to 4 weeks will have a significant impact as we all do our part to "flatten the curve".

As a result, the following actions will be immediately implemented in Berkeley Township:

1. No public access to all township buildings. The police department lobby will remain open to the public. Berkeley Township Municipal Offices, Public Works and Recreation will be staffed with personnel, Monday through Friday. Personnel will be able to answer questions over the telephone and via email. Residents may call Town Hall at: 732-244-7400 from 8:30 a.m. to 4:00 p.m. Department of Public Works can be reached at: 732-349-4616 from 7:00 a.m. to 3:00 p.m. All scheduled meetings at the Recreation Center are cancelled and should be rescheduled. To reschedule, or for information, call: 732-269-4456.

2. All gatherings, as directed by the CDC should be canceled or rescheduled. The best way to "flatten the curve" is through "social distancing" which is designed to limit social interaction.

We understand that our residents regularly visit our Municipal Building and Recreation Center. We have developed a "Skip the Trip" interactive flyer that provides helpful links on how to: pay your taxes online; check on building permits; apply for a marriage license and other routine paperwork. Payments or other paperwork may be dropped in the secure box located on the exit driveway at Town Hall.

The Health and Well-being of our residents and employees is our top priority. We encourage all of our residents to stay informed through information sources provided below, and to take simple but effective health precautions.

The Corona Virus can affect anyone. However, we cannot stress enough to our most vulnerable population, those aged 65 years and older and with underlying medical conditions, need to be extremely careful.

There is currently no vaccine to prevent COVID-19. The best way to prevent illness is to avoid being exposed to this virus.

As a reminder, the CDC & OCHD recommends preventive actions to help halt the spread of respiratory diseases, including:

SOCIAL DISTANCING

• Washing your hands often with soap and water for at least 20 seconds, especially after going to the bathroom, before eating, after blowing your nose, coughing or sneezing;

• If soap and water are not readily available, use an alcohol-based hand sanitizer with at least 60% alcohol; and

• Avoiding touching your eyes, nose and mouth;

• Avoiding close contact with people who are sick;

• Staying home when you are sick and avoiding contact with persons in poor health;

• Covering your cough or sneeze with a tissue, then disposing of the tissue;

• Cleaning and disinfecting frequently touched objects and surfaces using a regular household cleaning spray or wipe;

For more information on COVID-19, visit: www.ochd.org or call the New Jersey hotline available around the clock for questions at 1-800-222-1222.

OCHD has also set up a hotline number for residents' questions regarding the coronavirus. The number is 732-341-9700 ext. 7411.

Additional information can be found at: Centers for Disease Control and Prevention website at:
https://www.cdc.gov/coronavirus/2019-ncov/index.html

New Jersey Department of Health website at: https://www.state.nj.us/health/cd/topics/ncov.shtml

Thank you for your understanding and patience during this time.

Mayor Carmen Amato
732-244-7400 ext: 1203
mayor@twp.berkeley.nj.us


Berkeley Township officials are actively looking for ways to help our residents, while recognizing the need to maintain social distancing to reduce the spread of Covid-19.

Our modern website already provides residents with the tools they need to skip the trip to town hall. We have compiled this list of frequently used forms and services that you can use without making the trip to town hall.

Visit our website at www.berkeleytownship.org
---
VFW "The Scoop" (April-June 2020)
Click Here to See What's Happening at the VFW Center
---
W Holm Indoor RC Park
Coming soon!!! Indoor RC Car Racing with multiple tracks, pit area, lap timers and other amenities all located in a 15,000 sq ft warehouse located off Route 9 in Forked River, NJ.
Click on the below link for additional information and updates:
---
Berkeley Field Renamed!
---
Our new flying field located in Berkeley Township across from the Berkeley Courthouse on Pinewald Keswick Road has a new name.

The Pine Barren Modelers RC Club in conjunction with the Veterans Of Foreign Wars (VFW) Post 9503 and Berkeley Township has named the new RC airfield, "Berkeley Veterans Flying Field" in honor of all the brave men and women who have served our country, past , present and future. An official ribbon cutting ceremony is being planned. Look here for future announcements and dates.
---